SUNY Downstate Medical Center
Department of Neurology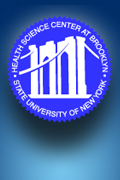 Susan W. Law, DO, MPH
Clinical Assistant Professor of Neurology, SUNY Downstate Medical Center
Director of Stroke Center, Kings County Hospital
Academic Qualifications:
DO: New York College of Osteopathic Medicine, NY
Neurology Residency: SUNY Downstate Medical Center, NY
Cerebrovascular Diseases Fellowship: SUNY Downstate Medical Center, NY
Masters of Public Health, Epidemiology: SUNY Downstate School of Public Health
Clinical Subspecialty:
Cerebrovascular diseases
Research Interests:
Neuroimaging of stroke
Clinical trials – SHINE, POINT, ATACH II
Hospital QI (medication adherence, hospital readmission)
Patient Appointments:
Fridays 1-5pm, 1st floor Building E, NYC Health and Hospital / Kings County
Podcast
"Salt and Pepper" Pontine Infarct. Lyons LJ, Law S, Kubie J. Journal of Neuro-Ophthalmology. Accepted. Pending publication.
Scleroderma and Stroke. Marchidann A, Law S, Levine SR. Uncommon Causes of Stroke 3rd Edition. Pending publication.
Law S, Levine SR. Support for IV tPA in ischaemic stroke in elderly people. Nature Reviews Neurology. 2016 Jan; 12(1).
A Therapeutic Fast for Lymphoma Resulting in Wernicke Encephalopathy. Brazg J, Ruest A, Law S, Bosoy D. J Emerg Med. 2015 June 20. doi:10.1016/j.jemermed.2015.03.022.
Rapidly improving stroke symptoms: a pilot, prospective study. Balucani D, BianchiR, Ramkishun C, Weedon J, Law S, Szarek M, Rojas-Sotor D, Tariq S, Levine SR. J Stroke Cerebrovasc Dis. 2015 Jun;24(6): 1211-6. doi:10.1016/j.jstrokecerebrovascdis.2015.01.017.
Book Chapter: Stroke in Adults, Etiologies. Neurology Differential Diagnosis: Case-based Approach. Law S , RosenbaumDM. Cambridge Press. 2014
Contrast-InducedNeurotoxicity – An Unrecognized Stroke Mimic. Law S, et al. Case Reports in Medicine Volume2012 (2012), Article ID 267860, 4 pages. doi:10.1155/2012/267860
Rapid-OnsetCognitive Impairment Due to Bilateral Medial-Thalamic Infarcts. Ramirez-Abreu DG, Law S. J. NeuropsychiatryClin Neurosci. 2011.
Current Status of Primary and Comprehensive Stroke Centers in the United States. Ramirez-Abreu, DG, Law S. The Core: SVIN QuarterlyNewsletterMay/June 2010: 5.
SVINMeeting Summary. Ramirez-Abreu, DG, Law S. The Core: SVIN Quarterly Newsletter March/April 2010: 4.
Triaging Stroke From the Field - The Prehospital Aspect. Law S, Janjua N. The Core: SVIN Quarterly Newsletter December 2010/Januaru 2011: 3.