SUNY Downstate Medical Center
Department of Neurology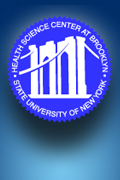 Adrian Marchidann, MD
Assistant Professor of Neurology and Pediatrics
Tel: (718) 270-1259
Clinical subspecialty:
Vascular Neurology
Research interests:
Acute stroke care
Education and training:
MD:

Universitatea de Medicina si Farmacie Carol Davila

Residency in Internal Medicine:

St. John's Episcopal Hospital

Residency in Neurology:

SUNY Downstate Medical Center

Fellowship in

Vascular Neurology

:

New York Presbyterian Hospital and Columbia University Medical Center
Clinical trials in progress:
Local PI for POINT_(Platelet-Oriented Inhibition in New TIA and Minor Stroke)
Patient appointments:
Tuesdays and Thursdays from 1-5pm
Insurance accepted:
1199 Member Choice
Aetna US Healthcare
Affinity
AlphaCare
Americhoice
AMERIGROUP & HEALTH PLUS MER
AMIDA CARE
Beacon
CIGNA
Elderplan
Empire BCBS
Fidelis
GHI
Healthcare Partners
Healthfirst
HIP of New York
MagnaCare/Magna Health
Metroplus
Multiplan
NY Medicaid
NY Medicare
NY Railroad Medicare
Oxford
POMCO
Senior Whole Health
TriCare
United Healthcare
United Healthcare - Empire
VNS Choice
Wellcare
Marchidann, Adrian. "New insights into the mechanism of action of endothelin-1 on cerebral microcirculation." Future Neurology 9.1 (2014): 33-36.
Willey JZ, Stillman J, Rivolta JA, Vieira J, Doyle MM, Linares G, Marchidann A, Elkind MS, Boden-Albala B, Marshall RS. Too good to treat? Outcomes in patients not receiving thrombolysis due to mild deficits or rapidly improving symptoms. Int J Stroke. 2012 Apr;7(3):202-6.
Joanne R. Festa, Xiaoyu Jia, Ken Cheung, Adrian Marchidann, Michael Schmidt, Peter A. Shapiro, Donna M. Mancini, Yoshifumi Naka, Mario Deng, Emily R. Lantz, Randolph S. Marshall, Ronald M. Lazar. Low Ejection Fraction is Associated with Impaired Verbal Memory in Older Patients with Heart Failure. Arch Neurol. 2011 Aug;68(8):1021-6.
Adrian Marchidann, Randolph S. Marshall. Treatment of Carotid Artery Disease, Endarterectomy or Angioplasty? Curr Neurol Neurosci Rep. 2010 Oct 20.
Book Chapters
Annual updates for MedLink (www.medlink.com) of the following chapters:

Amaurosis Fugax
Atrial Myxoma
Basal Ganglia Hemorrhage
CNS Complications of Pregnancy
Hypertensive Intracerebral Hemorrhage
Medical Complications of Stroke
Pregnancy and Stroke

Marchidann A, Law S, Levine SR. Scleroderma. Uncommon Causes of Stroke. Third edition. In print.
Marchidann, A., & Levine, S. R. (2016). 22 Cerebrovascular disease associated with antiphospholipid antibodies. International Neurology, 68.
Marchidann, A., Balucani, C., & Levine, S. R. (2015). Expansion of intravenous tissue plasminogen activator eligibility beyond National Institute of Neurological Disorders and Stroke and European Cooperative Acute Stroke Study III criteria. Neurologic clinics, 33(2), 381-400.
Abstracts
Savjani, M., Treidler, S., Law, S., & Marchidann, A. (2017). Postpartum Thrombosis of Developmental Venous Anomaly Complicated by Venous Infarct and Subarachnoid Hemorrhage (P3. 276). Neurology, 88(16 Supplement), P3-276.
Treidler, S., Arya, K., Seidman, R., Somasundaram, M., Anziska, Y., Marchidann, A., & Maccabee, P. (2017). Necrotizing myopathy in two patients after the use of Moringa (P2. 137). Neurology, 88(16 Supplement), P2-137.
Balucani, Clotilde, et al. "The REliability of MObile TEchnologies for Acute Stroke Neuroimaging Data Interpretation: The REMOTE Study (S5. 001)."Neurology 82.10 Supplement (2014): S5-001.
Yono N, Marchidann A, Kshouty R: A Rare Presentation of Anterior and Posterior Spinal Arteries Ischemia during Dialysis. Annals of Neurology 2011; Vol 70 (suppl 15), S12;
Choi JH, Giannopoulos S, Marchidann A, Marshall RS. Smoking is an Independent Predictor of Impaired Cerebral Vasomotor Reactivity After Acute Symptomatic Carotid Occlusive Disease. Stroke 2010;41;e366;
Willey JZ, Stillman J, Rivolta JA, Vieira J, Doyle MM, Linares G, Marchidann A, Elkind MS, Boden-Albala B, Marshall RS: Outcomes in patients not receiving thrombolysis due to mild deficits or rapidly improving symptoms. Stroke 2010;41;e333;